Seminars 2014
Painting Fun for Everyone!
Click on a photo to enlarge it. Press the BACK button on your browser to return to this page.
The Pampered Palette
Gainesville VA, March 2014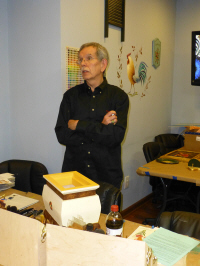 This was another wonderful seminar at the "premier studio for the decorative artist" in Gainesville VA. A great group of ladies came from far and wide (South Carolina, Kansas and New Jersey as well as Virginia) to paint a very different style of Bauernmalerei. Every piece was beautiful even though there was a lot of detail to each flower. With the next day being a snow day, several folks actually finished their entire project! A big thank you to everyone who participated and drove so far to paint together!
The Enchanted Painters
Albuquerque NM, September 2014



What a wonderful experience it was to teach the Enchanted Painters of Albuquerque! All of you ladies were SO nice and we had three great seminars days of industrious painting, lots of laughs and completion of your beautifully painted projects! A BIG THANK YOU to all of you folks who made me feel so welcome and also thanks to everyone who came from long distances like Arizona and Colorado as well as New Mexico. As you can see from the photos, I also really enjoyed the great restaurants where we ate in the evenings! Thank you to Debbie, Mike and everyone of you who made this a memorable seminar for me.
Other years of seminar participant photos: 2000, 2001, 2002, 2003, 2004, 2005, 2006, 2007, 2008, 2010, 2011, 2012, 2013