Seminars 2011
Painting Fun for Everyone!
Click on a photo to enlarge it. Press the BACK button on your browser to return to this page.
Penn's Woods Chapter
Mechanicsburg PA, April 2011


The Penn's Woods Decorative Painters are a wonderful group of ladies who are very well organized and love to paint! Their wonderful audio-visual system makes the teacher's job easier and helps the students relax because there is no bad seat in the room. The first day there were 27 ladies who painted a tray in the Bavarian style and for the next two days 19 ladies painted a jewelry box in the Renaissance style. It was really fun for me teaching this great group of excellent painters and I hope everyone has completely finished their projects by now!

The Pampered Palette
Gainesville VA, June 2011

The Pampered Palette is such a wonderful place to have a seminar! Everyone is TRULY pampered there - from the wonderful fresh-baked lunches and special afternoon treats and thoughtful gifts for every participant to the very comfortable padded chairs and great video system! The seminar was a wonderful gathering of folks painting and having fun all weekend! Cynthia gets the prize for coming all the way from Kansas City; Sharon gets the prize for persevering through her many health challenges in order to continue painting; Carolyn gets the prize for creativity with her beautiful project; Lori, Cathie and David get the prize for beautiful painting and Mark gets the biggest prize for making and serving all that wonderful food and topping it all off with a champagne toast to PAINTING FUN! It was great teaching and visiting with all of you and I hope to see you again one of these days for another "pampered" weekend! PS: Your projects were so close to complete that I hope you will soon be totally finished!

Triad Decorative Painters
Kernersville NC, November 2011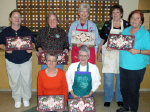 Bauernmalerei Tray and Bavarian Footstool projects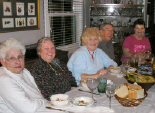 Dinner at Donna's (with husbands)

Donna's beautiful Bauernmalerei kitchen!
The lovely ladies of Triad Decorative Painters worked very diligently to finish their trays and footstools. Most were surprised to actually finish the tray and almost finish the footstool all while enjoying the wonderful camaraderie of friends (and delicious snacks) in a very nice venue. Thank you so much, Pam, for providing the video system which is so wonderful to have in a seminar. The fun continued Sunday evening with dinner at Donna's. I was so surprised and overwhelmed to see her beautiful Bauernmalerei kitchen and all the wonderful projects that she has painted through the years! Donna, keep up the good work - and all you Triad ladies too. Your pieces are beautiful! (And pet all your sweet doggies for me too!)

Other years of seminar participant photos: 2000, 2001, 2002, 2003, 2004, 2005, 2006, 2007, 2008, 2010