Seminars 2013
Painting Fun for Everyone!
Click on a photo to enlarge it. Press the BACK button on your browser to return to this page.
Lehigh Valley Chapter
Allentown, PA, September 2013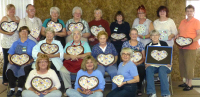 A very friendly group of ladies - and John - participated in my seminar for the Lehigh Valley Chapter! They really worked hard and most finished their projects in the two-day seminar. We had beautiful fall weather, a wonderful, large venue and a chapter full of folks who really paint beautifully. A big thank you to everyone who participated and don't forget to put in those last few dots and finish completely!
Other years of seminar participant photos: 2000, 2001, 2002, 2003, 2004, 2005, 2006, 2007, 2008, 2010, 2011, 2012, 2013, 2014