Scottie's Doll House Miniature Shop
(Scroll down to view the entire page)
The Meier Haus Story
there was a beautiful farmer's daughter who was betrothed to the son of a wealthy farmer near the small village of Unterammergau, Germany. Maria Stegmüller was very excited because her wedding to Georg Meier was going to take place the next day. They had been childhood playmates, and even though their marriage had been arranged, it was an arrangement that made then both very happy!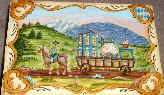 The long awaited day finally arrived. After the lovely wedding, Maria's adoring father loaded all the beautifully painted Bauernmöbel (furniture) that was to be her dowry, onto the horse-drawn cart. The Bauernmöbel
included a double bed, a Schrank (Armoire or wardrobe), a Truhe (chest) and a cradle. All of this wonderful furniture was custom made and hand-painted by the local cabinetmaker in the very ornate Rococo style that was so popular in 1807. Maria loved the painted furniture and felt so fortunate that her father could afford such a large dowry!
Maria and Georg were a very hard working couple and quite thrifty. They continued to work on the farm of Georg's father which they knew would one day be their own. However, they always dreamed of owning a home in town as well. In 1823 their dream became reality when they built the Meier Haus in Oberammergau, a town not far from their village.

The Meier Haus was very large. It had a Stube (kitcken/living room) on the ground floor, two bedrooms on the second floor and plenty of room for storage or another bedroom in the attic. Maria and Georg loved the beautifully painted exteriors that were so prevalent in the alpine town of Oberammergau. Their excitement grew when they were able to commission the best Lüftlmalerei (façade painting) artist of the day to paint the exterior of their home in the still fashionable Rococo style. They were thrilled with the result and the realization that this type of painting would last for hundreds of years for their descendants to enjoy as well.
Thus the eldest son in each generation since the Meier Haus was built, inherited not only the farm with all the

livestock and rich farmland, but also the beautiful house in town. So it came to pass that the eldest son of the fourth generation to inherit and live in the beautiful old Meier Haus was Fritz Meier, great-grandson of Maria and Georg. Fritz Meier married Hannelore Kugler in Oberammergau in 1895 and immediately took over the care and upkeep of the family home which by then was 72 years old. Not much had been done to the inside of the house for many years. But Fritz had many modern ideas and decided that it was time to turn the smallest bedroom into a modern wonder called a Bad (bathroom with a tub). He installed a special water heater that would heat water with burning wood. It also had a spigot and shower head that would let the water run into a bathtub. This was so much more convenient than heating water on the stove! He also installed an inside toilet and sink in the bathroom and a sink in the kitchen with cold running water. Fritz and Hannelore felt very fortunate to be able to afford such luxuries!
Over the past century, The Meier Haus exterior stucco had deteriorated and been
repaired and patched a number of times. A Lüftlmalerei (façade painting) artist restored the façade scene when Fritz' father owned the house. However, nothing more was done to the exterior at that time except to replace the shutters and balcony. Now even those are very weathered and the stucco is crumbling in more places.
At the present time, as we look in on the Meier family, it is a bright September Sunday morning and they are preparing for the christening of their new
little daughter. Fritz and Hannelore's first son, Hans Meier, was four years old when his sister was born just one month ago, August 21, 1907. This morning she is dressed in the beautiful, handmade christening gown used by four generations of Meiers. Hannelore is wearing her lovely Sunday Dirndl; Fritz and Hans are in their best Lederhosen. Fritz is just finishing breakfast while Hans and his little neighbor
friend, Heidi, are playing in Hans' room in the attic. Hannelore has fixed a delicious cake which awaits the family and guests upon their return from church. Buckets of freshly picked vegetables, from the garden at the farm, will serve as gifts to many family members and friends.
So as we look in on the Meier family, we know that today is that special day when family and friends will all gather to witness the christening of little Maria Stegmüller Meier, fittingly named after her great-great-grandmother in whose dowry cradle she is now sleeping…in the wonderful old Meier Haus...
By Scottie Foster Copyright 1995