Scottie's Bauernmalerei Book Store
(Scroll down to view the entire page; click above for more Book & Packet categories)
Miscellaneous Packets Page 1
Click on a number to go to another page of miscellaneous packets:




| | |
| --- | --- |
| Packet name and price | Packet photo |

Christmas in Bavaria
Four 8-1/2" x 11" photos and one 8.5" x 5.5" photo
$20.00
Take a nostalgic trip to Bavaria for Christmas while painting the design in this packet! The box shown is no longer available but the design is adaptable to many other surfaces as well as to different styles of boxes. The packet contains four 8-1/2" x 11" color photos, one 8-1/2" x 5 1/2" photo, and 15 pages of patterns and instructions. All of the designs can be easily adapted to other pieces.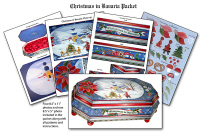 Bauernmalerei Three-Fold Screen

One large 8 1/2" x 11" photo

$10.00

Three beautiful panels painted in the German wet-in-wet style. A beautiful furniture addition to any room. Each panel is 62" high x 15" wide. Paint as many panels as you need. The packet contains an 8-1/2" x 11" color photo, instructions and 11 pages of patterns. The designs can be easily adapted to other pieces.

Bavarian Heart Cutout Chest
Three 4"x 6" photos

$8.00

This lovely chest with heart cutouts is a great project to help you get started painting on larger furniture pieces! The chest is 22" long x 12" wide x 13" tall. Small enough for a classroom table but large enough to put at the foot of a queen-size bed. That's where Scottie's original chest is today!
Remember to click on a photo to see enlarged view of project
Biedermeier Heart Chest-Stool
Three 4" x 6" photos and a color step-by-step chart

$10.00

The shape of the heart lid on this beautiful chest is gorgeous! Add to that the functionality of a stool and this chest doubles as a place to sit! 20" wide x 11" deep x 16" tall. It is painted in the Biedermeier style of Bauernmalerei which is characterized by elegant, angular vases, draped swags, and tightly knit bouquets of flowers. Kleistermalerei (faux finish) graces the sides. Step-by-step color chart included.
Bavarian Umbrella Stand
Two 4" x 6" photos

$6.00

Umbrella stands are commonly found in Bavarian homes and shops. This American version is rectangular in shape and a lot less expensive than the round ones! It has a large painting surface and is fun to paint in colors that coordinate with your foyer.
For information on postage and handling click here.

Click here for supply source for raw wood featured in the packets
This is Miscellaneous Packets Page 1
Click a heart for more clock packets or other Book & Packet categories below:




Copyright © 1998-2019 Scottie Foster. All rights reserved. No part of this web site may be reproduced in whole or in part without the express written permission of Scottie Foster.