On the first day after my arrival in Seoul, Alex, Eunha and Abby (my wonderful interpreter) made me feel very welcome. After a tasty lunch of some very unfamiliar but excellent food, we took a cable car up to the Seoul Tower.
The Seoul Tower is a communication and observation tower located on Namsan Mountain in central Seoul. It was hazy the day we were there but it was still fun to get a 360 degree view of Seoul from the observation platform. On the grounds of the tower, there were small trees loaded to the hilt with named padlocks placed there by couples as a symbol of their love!
Walking around the streets of Seoul, there were Starbucks stores everywhere
- just like in the U.S.!
Another day, after more good food at a Bulgogi Restaurant, Eunha, Thomas (my other wonderful interpreter), Lisa (a friend of Eunha's) and I headed to Itaewan for a little shopping.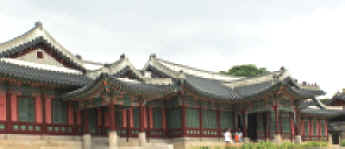 Then it was off to the Changdeokgung Palace.
"Changdeokgung was the most favored palace of many princes of the Joseon Dynasty and retains many elements dating from the Three Kingdoms of Korea period. One such element is the fact that the buildings blend with the topography of the site instead of imposing upon nature."
Currently, only 30% of the palace structures remain. Changdeokgung was added to the UNESCO World Heritage List in 1997. "The UNESCO committee inscribing the site stated the place was an outstanding example of Far Eastern palace architecture and garden design" being exceptional because the buildings are "integrated into and harmonized with the natural setting" and adapted "to the topography and retaining indigenous tree cover." In any case, it was wonderful to see the many beautifully restored buildings with their lovely natural surroundings right in the heart of Seoul.
To complete a wonderful day full of Korean flavor, Thomas, Lisa and I attended a beautiful show of traditional Korean court dances. Each dance was more lovely than the one before and the costumes were spectacular. At then end of the evening we had our photograph taken with four of the beautiful dancers!
I would like to express a huge THANK YOU once again to Eunha, Alex, Abby, Thomas and Lisa all of whom worked very hard to make my visit so memorable! And a special THANK YOU to Abby and Lisa who took many photos for me when my camera broke. I will never forget my wonderful visit to Korea and all of the very talented painters that I was privileged to teach. I hope you have all finished your projects by now!