The Pampered Palette
June 23-25, 2017
Click on a photo to see the enlarged picture
For the seminar, feel free to change the colors to those of your liking and
add initials or a name instead of the date!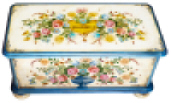 Bavarian Favorite Flowers Chest with Bun Feet
This unique chest is beautifully made and measures 25" long x 11.5" high x 12.5" wide x 8" deep with four bun feet that make it very authentic looking. It is painted in my favorite Bauernmalerei style of German wet-in-wet with sponging and Kleister techniques using all of my favorite flowers!
This chest will become your newest Bavarian heirloom! The inspiration for the chest came from the chest (below) that I painted in 1996 for the Decorative Arts Collection of the National Society of Decorative Painters as a Past President's Award (by past president Betsy Thomas). It is now on display in the SDP museum in Kansas that was recently opened in a new location. The German words mean
"A Merry Heart Doeth Good Like a Medicine".