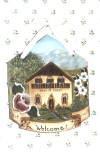 Bavarian Church in Winter
Two 4" x 6" photos

$6.00

This simple snow scene on a round bentwood box makes an easy but elegant "special occasion"gift. Of course the pattern is adaptable to many projects so have fun creating your own Bavarian winter wonderland!
Remember to click on a photo to see enlarged view of project
Bauernmalerei Lids
Four 4" x 6" photos plus color chart

$10.00

Experience three beautiful Bauernmalerei styles: German, Black Forest and Austrian. Use these five designs on lids for glass bowls or boxes or adapt them to any piece you have. Feel free to enlarge or reduce the designs for your own use. Included in the packet is a color step-by-step page containing the flowers for each style. Have fun!
For information on postage and handling click here.

Click here for supply source for raw wood featured in the packets
This is Miscellaneous Packets Page 2
Click a heart for more clock packets or other Book & Packet categories below:




Copyright © 1998-2017 Scottie Foster. All rights reserved. No part of this web site may be reproduced in whole or in part without the express written permission of Scottie Foster.